DELIVERY
We deliver to Sweden with:
UPS Express saver & Standard courier services
FedEx Economy courier services
DHL Express & Economy courier services
Fast delivery times and no customs or import fees since we're based in the EU :)
If you cannot see any delivery options
please

use LATIN CHARACTERS (English letters) ONLY without any special characters (ä,ö,

å

) in your address.
Delivery price and time are shown next to all the available delivery options once you select Sweden and enter your postcode on the checkout page.
PAYMENT
For our customers' convenience, we accept many payment methods that you can choose from when ordering in Sweden (click on the names to get more information):
Bank transfer (SEPA Bank transfer)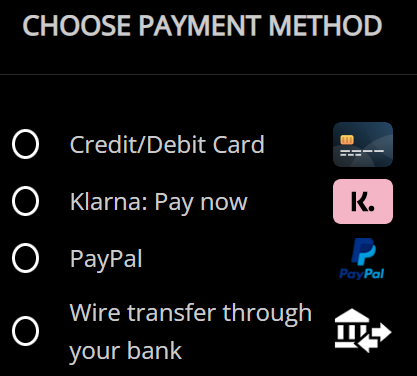 VAT (Value Added Tax)
All prices and services include VAT (Value Added Tax) for deliveries within the EU
Customers from Sweden benefit from
no customs procedures and no import fees on orders they receive from us.
RETURNS FROM SWEDEN
General return terms for countries within the EU apply to Sweden.
What that is?
If the size did not fit you, you can send it back and we will send an exchange free of charge.
We always recommend contacting our customer support through chat before returning any item.
---
Continue shopping at Fantasmagoria