DO YOU LIVE OUTSIDE EUROPEAN UNION? ENJOY TAX-FREE SHOPPING!
HOW DOES THIS WORK?
Taxes will be deducted once you select delivery to a country outside the EU.
Select your (delivery) country on the top of the page (usually, it changes automatically by your geolocation).
All the prices will be displayed at 0% tax (you will see "Tax included: 0%" next to the product prices)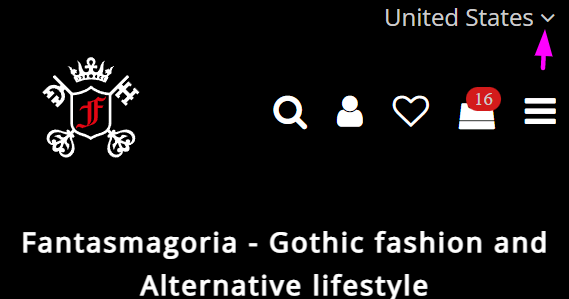 Tax-free shopping is available for deliveries to countries outside the EU: the United States, Canada, United Kingdom (except Northern Ireland), Mexico, Chile, Norway, Switzerland, Australia, New Zealand, Japan, South Korea, UAE, Ukraine, etc.
If you browse our website from within the EU, but ship to a country outside the EU, once you select the delivery country on checkout > VAT* will be deducted from all prices.
*VAT is the abbreviation of "value-added tax" (similar to GST or "sales tax" in the US).
---
Always choose your delivery country from the "countries" dropdown list at the top of the Fantasmagoria.shop page to ensure all the product prices are displayed correctly.
---
WANT TO KNOW HOW MUCH IMPORT FEES YOU HAVE TO PAY FOR YOUR ORDER?
Check this article with an import fee % by country.
NEED MORE INFO ON IMPORT DUTY AND CUSTOMS FEES?
Find your questions answered here.
---