HOW TO APPLY A PROMO CODE TO RECEIVE A PROMOTED GIFT?
Add a code in the "promo code field" to use the complimentary product offer and click "Apply."
The gratis item will be added to your cart, and the 100% discount will immediately apply.
HOW DO I KNOW IF I CAN RECEIVE A FREE ITEM FROM FANTASMAGORIA?
If the "Free gift with your order" promotion is available, you will see the offer at checkout; it will also be announced in the
CURRENT PROMOTIONS
section.
WHAT ARE THE TERMS OF RECEIVING THE FREE ITEM FROM FANTASMAGORIA?
The info will be written on the offer page or at the checkout in the promo code field.
Usually, the condition to get the complimentary product for free is to have a minimum order amount in your cart or to buy a particular product.
The term that never changes is if you return any items from your order for a refund, the item you got free of charge must also be returned.
Also, there might be a limit on how many times one customer can receive a complimentary item.
AN EXAMPLE OF HOW TO GET A FREE ITEM USING A PROMO CODE
Today, we offer a free Fantasmagoria tote bag with any order over 100 €:
Once the total sum of the goods in your car is over 100

€

Click on the code.
Press "Apply."
A tote bag will be added to your cart.
A 100% discount will be applied to the tote bag.

I ACCIDENTALLY ADDED A FREE ITEM TO MY CART BUT DID NOT NEED IT. HOW DO I REMOVE IT?
Click on the cart's bin icon in the promo codes field to remove it. Just like this: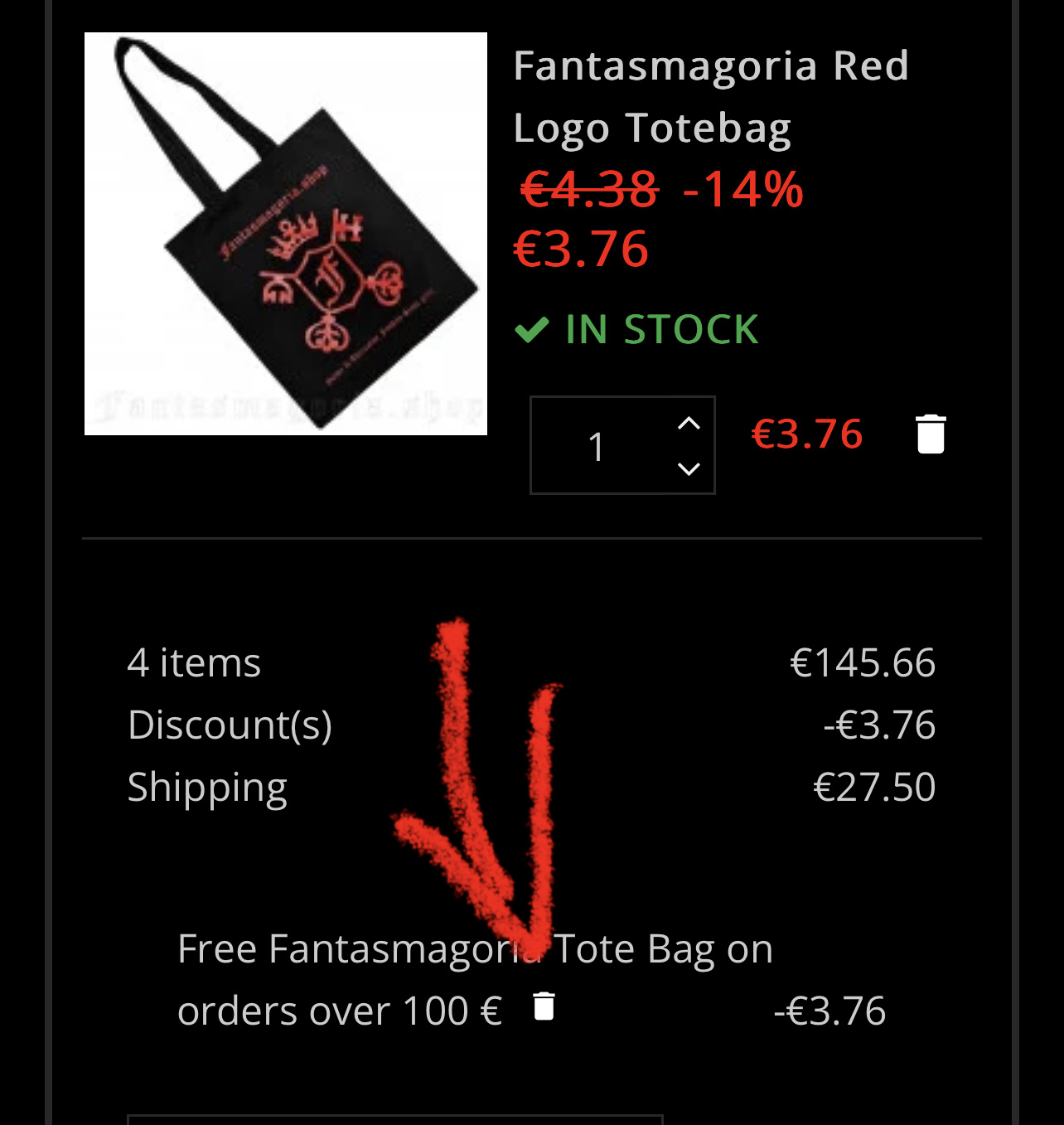 I HAVE NOTICED THAT THE PRICE OF THE ITEM THAT IS SUPPOSED TO BE FREE IS IN THE INVOICE. HAVE I BEEN CHARGED?
Worry not. You haven't been charged. See the 100% discount applied to it in the invoice.
BUT WHY DO YOU WRITE THE PRICE ON THE "SUPPOSED TO BE FREE" ITEM IN THE INVOICE? CAN'T YOU WRITE 0 OR NOT INCLUDE IT IN THE INVOICE?
This is necessary for the accounts and customs if the order goes outside the EU. Please do not use the "gift" promotion if this condition is unsuitable.
---
💬 If you need help please send us a message in the chat