Your customer's account dashboard is only accessible when logged in: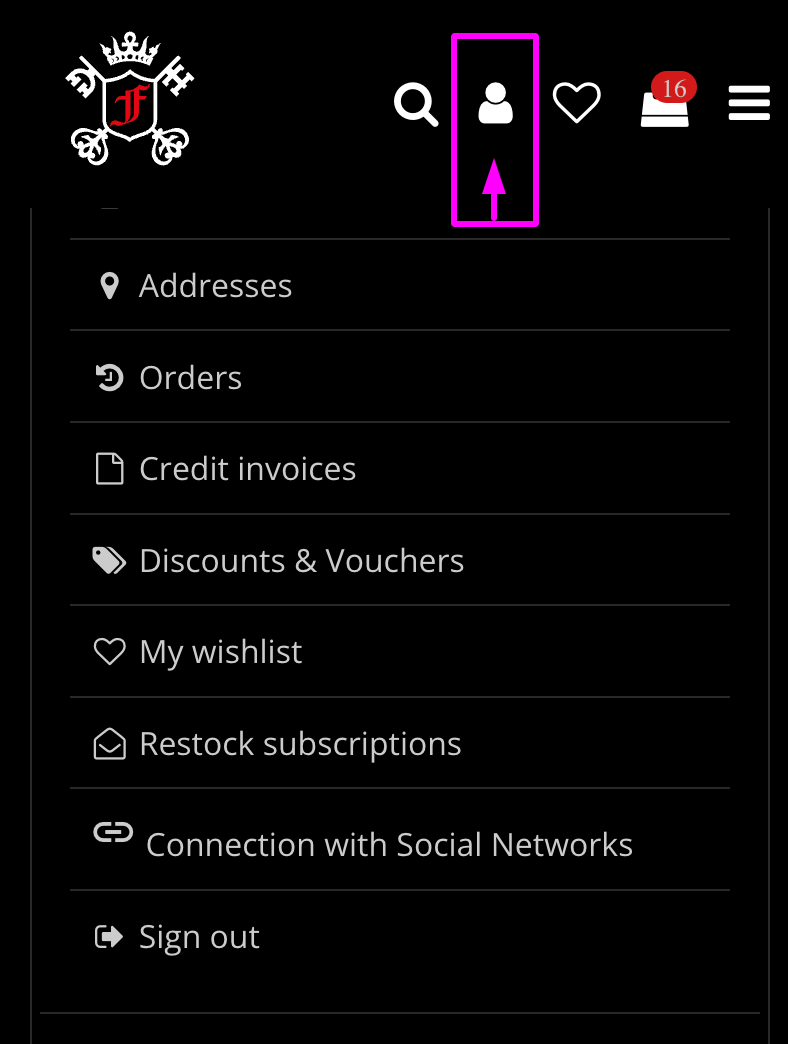 Log in to your account here.
No account? Create it at checkout, when placing your first order, or by registering here.
---
CUSTOMER'S ACCOUNT FEATURES & PERKS:

You can change your name, email, and password here.
Edit, add, or delete your billing and delivery addresses. You can add more than one!
See all your past and current order data in this section. You can download invoices, see order status, check the tracking number, and send us a message about the order.
If you have any refunds from us, you will find all the credit invoices in this section.
Everyone's favorite section ;). You will find all your offers, promo codes with discount coupons, and shopping credit coupons here.
When you press the heart symbol on the product, this product will appear in your wishlist section.
USEFUL WISHLIST TIPS:
Use the wishlist as your shopping list.
Share the link to your wishlist with your friends or anyone who wants to make a gift for you ;).
If you are adding clothing, shoes, or ring to your wishlist, we recommend choosing your size first, then pressing the heart.
Something you liked is sold out? Don't worry, as it might be restocked, and we will send you an email once that item is back in stock!
All your "restock subscription" goodies can be found here in this section when you subscribe to restock notification on the product page.
Login to your account with your Google, Facebook, or Amazon account.
You can only use one of these networks. Should you wish to disconnect, please click the "unlink" button.
If you used to have a customer account with us and want to log in through one of these networks, please make sure the email matches.
For example, you already have an account with a [email protected] email login. But now you want to log in with Facebook. Please ensure that the same "[email protected]" email is used for logging in to your Facebook account.
Please note that we send all info about your order to your email. When logging into your Fantasmagoria.shop account with Facebook, please make sure the email you use on Facebook is valid and that you check it.
Rest assured; the social login is only used for an easy and quick login to your account. We do not fetch or store any of your private info.
Press "Sign out" if you want to log out of your account.
---
If you have questions or feedback about creating or using your account- don't hesitate to contact us via chat or email.
---
Please email us your request if you wish us to delete your account and all your personal data.
---